Summary - In 1986, starting in the Guenther's Marina Complex, consisting of fisheries (including Wholesale Retail outlet), Seafood Restaurant, Marine Dry Storage and repair, also including a Design and Build machining operation (Suncoast Engineering with military and medical certifications) they started designing an overhead boat carrying device connecting salt and freshwater communities over several roads in Hernando County, Florida, USA.

STC Corporation has developed an Overhead Suspended Light Rail System model which is applauded by all who view the technology in operation. It is now ready to advance to the specific design and construction of this. This system will use an existing Solar Array which will charge capacitor banks used to flash charge the vehicle's on board battery capacitor system as it arrives at each station. Additionally, motors on board during braking, become generators to feed energy back into the on board power supply.
STC began using funding from a Department Of Energy Grant to start this design process on a new Power Accumulator Transfer System. Findings have encouraged a submission to the National Science Foundation that will involve a power grooming system design reducing energy consumption and pollution from existing ship cranes at seaports.

Testimonials on Sky Train from UNIVERSITIES:

Florida Solar Energy Center:
"Dear Mr. Guenther:
The Florida Solar Energy Center (FSEC) of the University of Central Florida would be pleased to participate in the project resulting from Sky Train Corporation proposal DTOS59-10-RA-TIGER2 to be submitted to the U.S. Department of Transportation for Surface Transportation Infrastructure Discretionary Grant to build a highly Environmental Sky Train transportation system at the Museum of Science and Industry (MOSI) in Tampa, Florida."
For a full review click here

University of South Florida:
Led by their Clean Energy Research Center the University collaborated via a Tiger Grant to build a full size $25 million operating system on the adjacent Southís Largest Museum Of Science and Industry; MOSI, to be extended on to the university in another funding tranche.
For a full review click here
In a Press Release from the Florida Solar Energy Center at the University of Central Florida, entitled "FSEC to Support Solar-Powered Monorail System Development" they detail their collaborative renewable energy grant with Sky Train Corporation.
The monorail is described as "A more sustainable form of transportation...designed to move people and freight high above traffic congestion."
The monorail as a demonstration model to showcase the nation's leadership and dedication to energy-efficient public transportation."
For a full review click here

Letter from Judith Lombana Ed.D, Vice President of Research (MOSI) to Karl Guenther CEO Sky Train International.
For a full review click here

7/1/2008 Enterprise Florida:
"Dear Mr. Guenther:
Enterprise Florida has identified you as one of Florida's entrepreneurial, innovative companies contributing to our State's business growth. One of our goals as the public-private partnership supporting Florida's economic development is to assist innovative companies by providing programs and services to help them grow."
For a full review click here

Letter from Trent M. Molter, Research Scientist, The University of Connecticut to Karl Guenther CEO STC- International.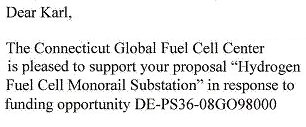 For a full review click here
Wilfred & Karlís first academic contact:
The University of South Florida (USF) and their Center for Urban Transportation Research - 1994 to present. Together they initiated a formal Teaming Agreement to get mutual grants for Sky Train Corporationís technology also sharing their fine transportation library. They also introduced two outstanding USF professors of Structural Engineering PhD PEís Rajan Sen and Jose Dannon of FDOT7 to apply for our first grant.
Bob Reedy from the Florida Solar Energy Center to Mr. Mack at the Florida Energy Office.
"This letter expresses the interests that the Florida Energy Center administered by the University of Central Florida, has in a project to promote renewable energy technology in Florida. It further agreed to participate in this concept now funded by the Department Of Energy."
For a full review click here

WEDU is the largest publicly funded television station in Florida and produces its own documentaries for educational and informational purposes serving the public.
In their letter, Larry Jopek states: "WEDU Public TV in Tampa, FL would be delighted to produce (STC's documentary) and act as the PBS presenting station and as distributor for Hydrogen Fuel Cell Substation "Sky Train: A Solar and Hydrogen Fueled Mass Transportation System", upon its funding completion.

"We are confident that it will be a program of quality, integrity and value for the PBS viewing audience... We are excited about making this informative program and bring it to the PBS audience. We believe that your project represents an excellent match with WEDU and PBS, its mission, and its standards, and we look forward to working with you to see it to fruition.
Sincerely, Larry Jopek Vice President of Marketing and Community Partnerships WEDU."
For a full review click here.

10/17/2006 Space Alliance Technology outreach Program
"Dear Karl,
We have received your Request for Technical Assistance entitled "Design of Gimbal Couplers". This request has been reviewed and assigned identification number 2700."
For a full review click here.

9/9/2003 ILLINOIS INSTITUDE OF TECHNOLOGY
"On behalf of IIT president Lew Collens, I am forwarding you a copy of this letter from Karl Guenther, an IIT alum and CEO of Sky Train Corporation. Karl has an interesting vision for the future of Transit Oriented Development he would like to share with the CTA, involving the linkages among the Green and Red Lines on the south end of our campus. There may be other applications as well for this futuristic concept."
For a full review click here.

4/29/2002 Largo Central Railroad
For a full review click here.